Lasagna Bolognese-Single Tray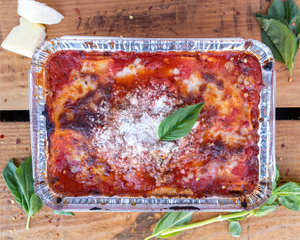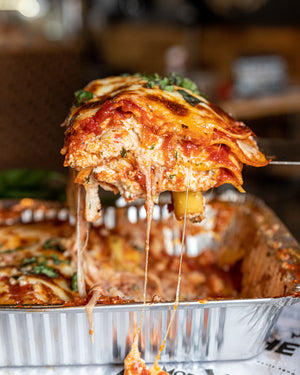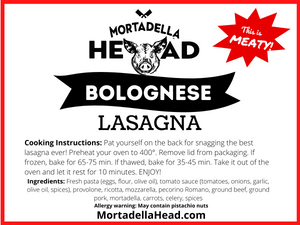 Lasagna Bolognese is a classic...an old school favorite that people have been eating for centuries.
People have always loved the slow cooked meat sauce that simmers on the stove for hours.
We spent a lot of time in our kitchen cooking, experimenting and taste testing to come up with, what we believe, is THE BEST LASAGNA BOLOGNESE on the market.
I'll put our frozen LASAGNA BOLOGNESE up against any other lasagna Bolognese out there.  I'm talking any restaurant, celebrity chef or grandmother...ours will kick their ass!
It has layers of fresh pasta, slow cooked Bolognese sauce, homemade tomato sauce, ricotta, provolone, mozzarella, and Romano cheese.

It weighs approximately 2 1/4 lbs. and feeds 2-4 people.  

I always say it's plenty of food for 4 normal people.  

HOW THE HECK DO YOU MAIL LASAGNA?!

DON'T WORRY ABOUT IT. LEAVE IT UP TO US.

It's all going to arrive at your house in a temperature-controlled, insulated box with ice packs.
While it's still in our kitchen, it's frozen to ensure freshness.
By the time you receive it, it may have started to thaw. Just place it in your freezer until you're ready to cook it!
Follow the cooking instructions included!