3 PACK-Homemade Bolognese Sauce!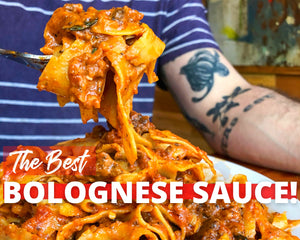 You're going to get THREE (3) 32 ounce (quart) containers of MEAT SAUCE HEAVEN! This is the sauce you're going to LOVE! 
Our Bolognese is cooked slow and low so all of the flavors come together as they should.  This Bolognese sauce is made with beef, pork, mortadella, onions, carrots, celery, garlic, pecorino Romano cheese, and basil.
It's one of the BEST sauces to have in the freezer when you get a sudden craving for REAL ITALIAN FOOD!
Toss it with fettuccine, put it inside of your manicotti or just eat it with a spoon as we do sometimes!
It's all going to arrive at your house in a temperature-controlled, insulated box with ice packs.  While it's still in our kitchen, it's frozen to ensure freshness.  By the time you receive it, it may have started to thaw.  Just place it in your freezer until you're ready to cook it!  Just follow the cooking instructions included!