Buffalo Chicken Lasagna - Single Tray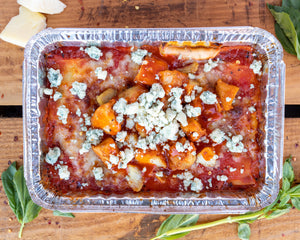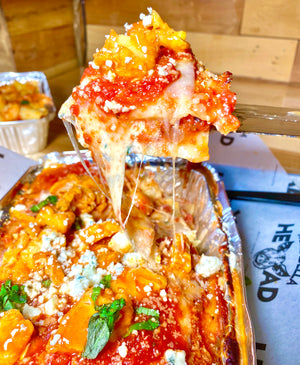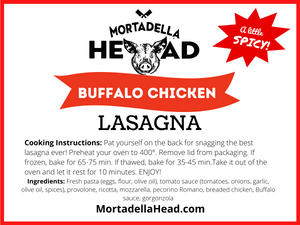 Yes. You read it correctly. BUFFALO CHICKEN LASAGNA...
We are absolute geniuses in the kitchen.
It has layers of fresh pasta, breaded chicken cutlets, Buffalo sauce, homemade tomato sauce, Gorgonzola, ricotta, provolone, mozzarella, and Romano cheese.
Since our Buffalo Chicken Pizza is one of our TOP SELLERS, we decided, "What the hell? Let's try it with lasagna." People started going crazy about it. We're good.  What can I say?
It weighs 2 1/4 lbs. and feeds 2-4 people.  
I always say it's plenty of food for 4 normal people.  
HOW THE HECK DO YOU MAIL LASAGNA?!
DON'T WORRY ABOUT IT. LEAVE IT UP TO US.
It's all going to arrive at your house in a temperature-controlled, insulated box with ice packs. While it's still in our kitchen, it's frozen to ensure freshness. By the time you receive it, it may have started to thaw. Just place it in your freezer until you're ready to cook it! Just follow the cooking instructions included!