MEATBALL MANIA (Make Meatball Subs for the Whole Family!)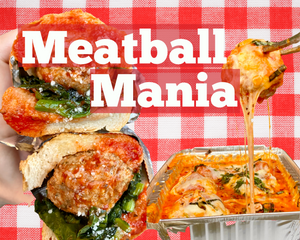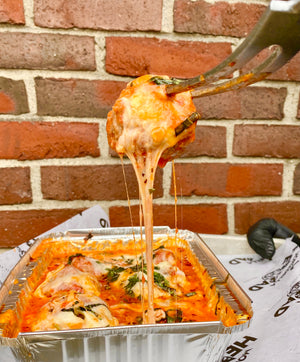 Who's in the mood for a MEATBALL SUB PARTY!
I know I am!  Everyday...all day.
We make the BEST MEATBALLS!  They are handmade with beef, pork, pecorino Romano cheese, and some of our famous Roman pizza Bianca for added flavor.
All you need to do is pick up your favorite sub rolls and we will do the rest!
Here's what you get!
1. 24 (TWO DOZEN) HAND ROLLED MEATBALLS  smothered in our homemade tomato sauce, provolone cheese, aged mozzarella, and grated Romano cheese. ($72 VALUE)
2. A 32 oz. jar of our slow simmered MORTADELLA HEAD MARINARA SAUCE because...who doesn't want EXTRA SAUCE? ($12 VALUE)
3. Temperature controlled package to ensure freshness ($16 VALUE)
(TOTAL VALUE $100)
MEATBALL MANIA PRICE $85
FAQs
1. How the heck do you ship MEATBALLS in the MAIL?!
Don't worry about it.  We have it under control.
It's all going to arrive at your house in a temperature controlled, insulated box with ice packs.  While it's still in our kitchen, it's frozen to ensure freshness.  By the time you receive it, it may have started to thaw.  Just place it in your freezer until you're ready to cook it!  Just follow the cooking instructions included!
2. How many meatball subs/sandwiches will I get from this package!
I consider myself a meatball expert and I have tested this many times.  In my professional meatball eating opinion you will get 8 to 12 meatball subs from your MEATBALL MANIA package.
3.  What type of rolls should I get to make my meatball subs/sandwiches?
Different parts of the country have different names for certain types of bread, but I'd go with an Italian sub roll, a round Bulkie roll, a French baguette or a nice Ciabatta roll.
4.  What should I do with the extra jar of Tomato sauce in the package?
Even though our Meatballs come Parm style smothered in sauce and cheese, you can heat it up on the stove if you like extra sauce OR heat it up and toss it with some pasta on the side!