The 6 Pack: 2 Bolognese, 2 Chicken & Rabe, 2 Quattro Formaggi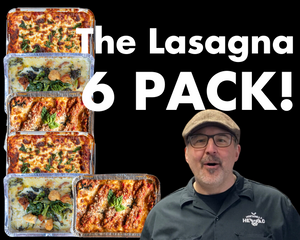 This is a nice combination box.  You can feed the family something new every night.
 Each tray of lasagna weighs about 2 1/4 lbs. and feeds 3-4 people.  
I always say each lasagna tray is plenty of food for 4 normal people.  Add some bread and a salad...you have a full meal.
Here's what you get!
2 Quattro Formaggi Lasagnas: Layers and layers of fresh pasta, homemade tomato sauce, creamy ricotta, provolone, mozzarella and pecorino Romano!

2 Lasagna Bolognese:  This is a classic...an old school favorite that people have been eating for centuries.   People have always loved the slow cooked meat sauce that simmers on the stove for hours.
2 Chicken Cutlet & Broccoli Rabe Lasagnas: It has layers of fresh pasta, breaded chicken cutlets, white garlic cream sauce, roasted broccoli rabe, ricotta, provolone, mozzarella, and Romano cheese.