Freezer Filler: Get a FREE Quattro Formaggi Lasagna (Save $30!)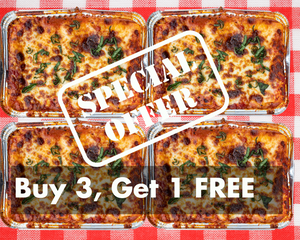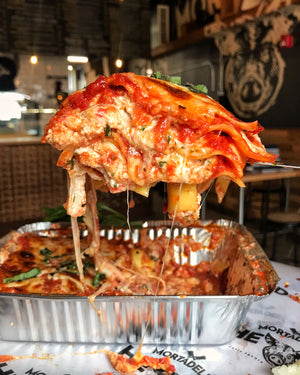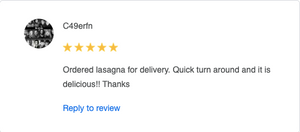 Buy 3, Get 1 FREE!
Load up your freezer with some of the best lasagna you'll ever eat.  It's always good to know you're stocked up and ready.  
This LASAGNA is AWESOME!  
We really took our time to perfect this recipe.
Layers and layers of fresh pasta, homemade tomato sauce, creamy ricotta, provolone, mozzarella and pecorino Romano!
When it all comes together you can't stop eating it! And for some reason it doesn't leave you feeling like you have a brick in your stomach. 
I think it's because we use real homemade ingredients.
Each tray weighs about  2 1/4 lbs. and feeds 3-4 people. 
I always say each tray plenty of food for 4 normal people.
HOW THE HECK DO YOU MAIL LASAGNA?!
DON'T WORRY ABOUT IT. LEAVE IT UP TO US.
It's all going to arrive at your house in a temperature-controlled, insulated box with ice packs. While it's still in our kitchen, it's frozen to ensure freshness. By the time you receive it, it may have started to thaw. Just place it in your freezer until you're ready to cook it! Just follow the cooking instructions included!