Birthday Bundle No.1 (SAVE $40!) 3 Quattro Formaggi Lasagnas and 3 Meatball Parms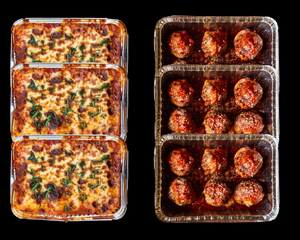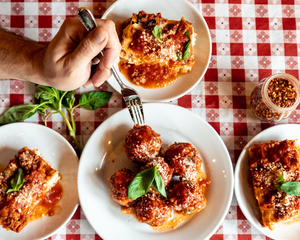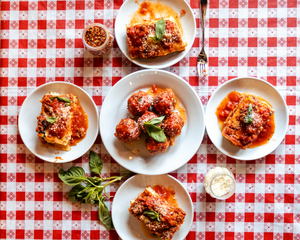 Make someone's day special!
This package is really great!  It's enough food for at least 9-12 meals.  
You can cook it all at once for a large crowd.
You can keep the trays in the freezer and cook them when you need them.
Whatever you do, you will get delicious Italian dinners on the table for the whole family with hardly any work.
Here's what you're going to get:
-THREE (3) 2 ¼ lb. Trays of QUATTRO FORMAGGI LASAGNA (each tray feeds 3-4 people) ($90 VALUE)
Layers and layers of fresh pasta, homemade tomato sauce, creamy ricotta, provolone, mozzarella and pecorino Romano!
 -THREE (3) TRAYS OF MEATBALL PARM ($66 VALUE)
We make the BEST MEATBALLS!  They are handmade with beef, pork, pecorino Romano cheese, and some of our famous Roman pizza Bianca for added flavor.
You will get 18 meatballs smothered in our homemade tomato sauce, provolone cheese, aged mozzarella, and grated Romano cheese.
-TEMPERATURE CONTROLLED PACKAGING & SHIPPING   ($24 VALUE)
 (TOTAL VALUE $180)
SPECIAL PRICE $140
How do you ship an Italian Feast like this?!  Let us worry about it.
It's all going to arrive at your house in a temperature controlled, insulated box with ice packs.  While it's still in our kitchen, it's frozen to ensure freshness.  By the time you receive it, it may have started to thaw.  Just place it in your freezer until you're ready to cook it!  Just follow the cooking instructions included!